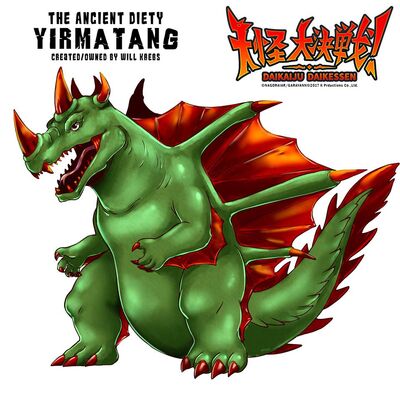 Yirmatang is a kajiu created by "Will Krebs. He appeared in G-Fan Magazine Issue #119, in the story "G-Fantis vs Yirmatang" (also written by Will Krebs).
Description
Edit
Yirmatang is a guardian of the Earth and is dated as the oldest living creature on the planet (the first living being). Yirmatang has a psychological connection with a humanoid known as "Yumiko Ito", and she is able to persuade the monster at her will. Rather than being scaled, Yirmatang has a more amphibious appearance.
Appearances
Edit
G-FAN Magazine (Issue #119)

Yirmatang appeared under the "Kaiju Tales" section in the story: G-Fantis vs Yirmatang
GARAYANN's DAIKAIJU DAIKESSEN 

A kaiju fighting game made by GARAYANN / Planet-G
Yirmatang is a summonable character
Yirmatang helps fight cancer through the group "Kaiju vs Cancer"

It is undetermined when Yirmatang will make his first appearance in the charity cause
Yirmatang originally started out as an Anguirus puppet, but to avoid licensing issues his creator chose to make his own, original monster
Yirmatang's design was influenced by the Toho kaiju: Anguirus, Titanosaurus, and Gigan.

*The artwork was drawn by GARAYANN*
Community content is available under
CC-BY-SA
unless otherwise noted.