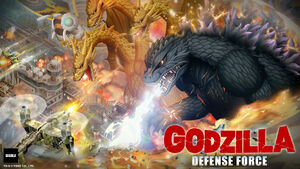 This is a list of
Kaiju
(怪獣,
kaijū
?
) is a Japanese word that means "strange beast," but often translated in English as "monster". Specifically, it is used to refer to a genre of tokusatsu entertainment. Toho of Giant Monsters on Television,Comics and Video games in Series
Snowman
H-Man
Telagian
Human Vapor
Mothra
Maguma
Oodaku
King Kong
Skleturtle
Ookondoru
Mechani-Kong
Giant Sea Serpent
Minilla
Maneater
Black Moth
Giant Rat
Bat People
Ganimes
Jet Jaguar
Mechagodzilla
Space Beastman
Tyrannosaurus Rex
Triceraptor
Godzuki
Shockirus
Dragon
Biollante
Gunhed
Aerobot
Dorats
Godzillasaurus
Mecha-King Ghidorah
Reiko
Battra
Baby/Little/Junior Godzilla
Yamata No Orochi
Kumasogami
Kaishin Muba
Utsuno Ikusagami
Garu-Garu
Mothra Leo
Ghogo
Barem
Grand King Ghidorah
Keizer Ghidorah
MUTO
Behemoth
Scylla or Skyella
Methuselah
Comic In American (Toho Kaiju Only)
Edit
Godzilla the Series in Video Games (Toho Kaiju Only)
Edit
Community content is available under
CC-BY-SA
unless otherwise noted.