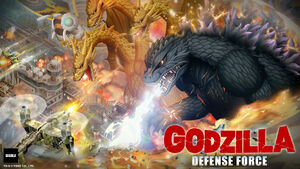 This is a list of
Kaiju
(怪獣,
kaijū
?
) is a Japanese word that means "strange beast," but often translated in English as "monster". Specifically, it is used to refer to a genre of tokusatsu entertainment. Toho of Giant Monsters on Television,Comics and Video games in Series
Mothra
Maguma
Giant Lizard
Oodaku (Giant Octopus)
King Kong (Toho)
Ookondoru (Giant Condor)
Mechani-Kong
Giant Sea Serpent
Minilla
Maneater
Ganimes
Jet Jaguar
Mechagodzilla
Godzuki
Shockirus
Biollante
Dorats
Godzillasaurus
Mecha-King Ghidorah
Battra
Baby/Little/Junior Godzilla
Garu-Garu
Mothra Leo
Ghogo
Barem
Comic In American (Toho Kaiju Only)
Godzilla the Series in Video Games (Toho Kaiju Only)
Community content is available under
CC-BY-SA
unless otherwise noted.