Sky Demon
Varan
Height
45 meters
Length
90 meters
Mass
10,000 metric tons
Created by
Toho
Redesign by
Matt Frank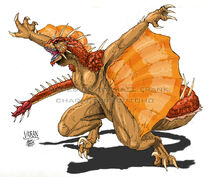 Abilities/Aspects:
Edit
- Armored hide repulses most conventional weaponry.
- Able to extend fleshy membrane to glide and fly.
- Huge spikes on claws and tail use a horrifically strong venom to subdue prey.
- Max flight speed of Mach 1, and extremely maneuverable (more than Rodan, but not as much as Megaguirus)
- Demon Ray that can stike down target, composed of plasma and sonic energy, charges similar to Godzilla with its spines. Ray rivals Baragon infamous Heat Ray.
External links
Edit
Community content is available under
CC-BY-SA
unless otherwise noted.